• Stefanie Caponi • Aquarius • Astrology • Brooklyn Tarot • moon void tarot • Stefanie Caponi • Tarot • tarot spread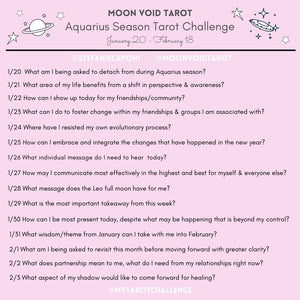 I'm so excited to kick off Aquarius season with the first Moon Void Tarot Challenge of 2021! Each month I'll be a tarot challenge that coincides with the energy of the astrological season. My goal is to not only deepen our collective tarot practice with a daily prompt, but to also embody the astrology of the year. Tarot and astrology go hand in hand, and this has been the easiest way for me to learn the lessons of each sign and how it affects my world, and I'd love to share my practice with you. I hope you will share...
---
• Moon Void Tarot Admin • Astrology • Astrology Compatibility • Love • Mars • sexoscopes • Stefanie Caponi • Venus
  I'm taking a small break from tarot talk, to discuss something I'm fascinated by - Venus Signs as Love Languages. Writing the monthly Sexoscopes for Dame (read yours here!) offers me plenty of time to study the energy of the planets and how they effect our love lives. Many people are constantly asking me about compatibility using sun signs. I believe you should be looking at moon signs, venus signs, and mars signs.  The moon sign is our emotional self, how we respond to the world through our feelings, and how we desire to be nurtured. For example, I am a...
---
• Moon Void Tarot Admin • 2019 • Astrology • Cancer/Capricorn • eclipse in cancer • lunar eclipse • moon void tarot • solar eclipse • Stefanie Caponi • Tarot
  During the month of June, we seem to be caught between the duality of moving rapidly forward and overanalyzing the past, we have so many planets in Gemini and Cancer to thank for that. In all fairness, June is the midway point of the year. It's a time to reflect over the past 6 months and see what adjustments and refining needs to be done on the projects or goals we've been putting our efforts into before turning our attention toward the second half of the year. It may seem to some, that things are finally beginning to move forward, as...
---
• Moon Void Tarot Admin • aries • Astrology • full moon • libra • Stefanie Caponi • Tarot
  Wednesday is the Spring Equinox, Ostara, moving from the end of the zodiacal calendar (Pisces) into Aries - the initiator. This is fire season. This is the beginning of new energy, moving forward.  I want to bring attention to the full moon story that is going to be taking place. Full moons are significant for several reasons. Each brings closure, endings, and illuminates the darkness to assist us in making these shifts in order to move forward. The full supermoon on Wednesday occurs at 0 degrees Libra. This is the beginning of our story. Libra is the sign of...
---
• Moon Void Tarot Admin • Brooklyn Tarot • Bushwick • Catland Books • Crown Heights • Fort Greene • Jill Lindsey • Lady J Jewelry • moon void tarot • Occult Brooklyn • phoenix & lotus • Stefanie Caponi • stockists • Tarot • tarot deck • Witches of Brooklyn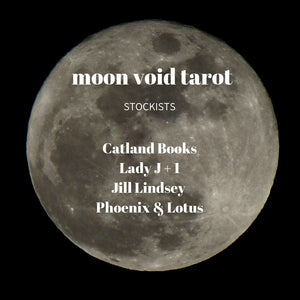 the Moon Void Tarot is available at these incredible, independent, woman-run small businesses. I am proud to support the occult community and be a part of it. Dear reader, if you find yourself in the Brooklyn area, I highly recommend checking out these stores. Each one is as different in vibe and offerings as the uniquely Brooklyn neighborhood they are located.  Lady J + 1, located in Crown Heights, offers gorgeous handmade jewelry, owner Jessica designs and produces in her on site studio. In addition she offers independent and ethically sourced candles, clothing, tarot cards, and other gifts.   www.ladyjjewelry.com Catland Books,...