It began with the tarot deck for self-care, healing, and reflection
The Moon Void Tarot is a unique deck that follows the journey of one singular character - The Fool, pulling the reader inward with the purpose of self-reflection, shadow work, and healing while learning to develop & trust one's intuition created by illustrator Stefanie Caponi, first edition created in 2017, released in 2018. The second edition was released in 2019 and the third edition in 2021.
Moon Void Tarot is a living, breathing entity that identifies as she/her. Stefanie learned that when MVT wants to evolve she whispers to her, and sometimes screams until Stefanie lets her reveal new artwork, the evolution of the Fool's journey. Stefanie feels like she channels a new version of this deck every year, and is so grateful to the people who support the process and understand that it's a living entity that doesn't want to be reprinted the same every time, that feels stagnant. The deck is confrontational without judgment, supportive like a witchy big sister that loves you unconditionally but wants you to do the work on your own. Stay connected for details on the next edition!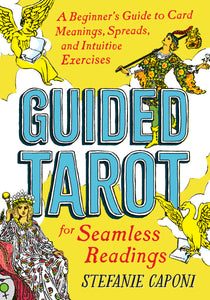 Guided Tarot: A Beginners Guide to Card Meanings, Spreads, & Intuitive Exercises for Seamless Readings
Your essential guide to reading tarot cards seamlessly--with confidence and ease
Each of us holds gifts deep within and, with tarot, we have the power to unlock those gifts and make transformative discoveries. For beginner tarot readers, learning the cards--all 78 of them--and understanding how to use spreads may seem daunting. Tarot expert Stefanie Caponi explains that interpreting the cards is a blend of knowing the card meanings, listening to your heart, and trusting your intuition. In her fully-illustrated best selling book with over 4,600 reviews, Guided Tarot, she offers easy exercises to nurture and grow your intuition, not only to understand the cards' universal meanings, but to channel your own meanings. This comprehensive guide also shows you how to attune your energy to the deck for more accurate readings. Soon you'll be confident in doing readings for yourself and even your friends.
Order Guided Tarot
Guided Astrology Workbook
Your essential workbook to unlock the wisdom of the stars and understand astrology and your birth chart.
Your birth chart is a snapshot of the positions of the planets at the moment you were born. It reveals your unique self: your gifts, your challenges, and your opportunities.Guided Astrology Workbookexplains the essential facets of astrology and includes interactive exercises to help you break down the detailed information in your birth chart. Best-selling author Stefanie Caponi guides you step-by-step as you learn to interpret seemingly complex astrological information with ease. With the language of astrology and your birth chart as your roadmap, you'll understand the role of the stars in your personality, life, and relationships, so that you can live with greater insight and intuition—and achieve your highest potential.
Order Guided Astrology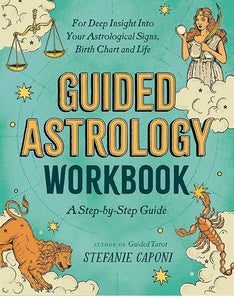 Guided Tarot For Teens
Adapted from the Amazon best-seller Guided Tarot with over 4,600 reviews, this essential guide is a must-have for pre-teens ready to embrace the wisdom of their inner voice through understanding tarot cards.
Order Guided Tarot For Teens