• Stefanie Caponi • Aquarius • Astrology • Brooklyn Tarot • moon void tarot • Stefanie Caponi • Tarot • tarot spread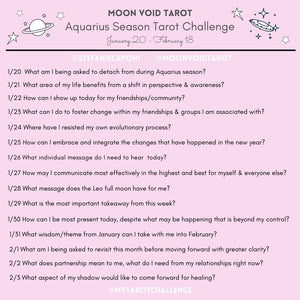 I'm so excited to kick off Aquarius season with the first Moon Void Tarot Challenge of 2021! Each month I'll be a tarot challenge that coincides with the energy of the astrological season. My goal is to not only deepen our collective tarot practice with a daily prompt, but to also embody the astrology of the year. Tarot and astrology go hand in hand, and this has been the easiest way for me to learn the lessons of each sign and how it affects my world, and I'd love to share my practice with you. I hope you will share...
---
• Moon Void Tarot Admin • Aquarius • blood moon • eclipses • full moon • Leo • Strength • Tarot • The Star
Tonight, in North America, we welcome the full Wolf Blood Moon lunar eclipse in Leo. Today the sun entered Aquarius, and these two polar signs will meet for one last time to finish the story they began in 2017.