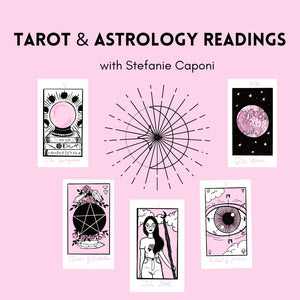 Moon Void Tarot
Personal Readings with Stefanie
Regular price
$150.00
$0.00
Stefanie channels information through symbolism and spirit in her readings to offer healing and guidance using tarot cards, astrology, and intuitive messages. Stefanie blends the mystical with the practical by examining current and potential energy, taking the messages further, offering clarity and actionable steps to work with these energies for the highest and best results for all involved.  

In an effort to make services available to all, readings offered on a sliding scale are always available. Please reach out directly by sending an email to stefanie@moonvoidtarot.com to schedule. 
Available options for readings include:
60 minute Tarot Reading - A deep dive into energy surrounding any area of concern or curiosity, the past, and how it informs the present so you are able to have clarity on how to move forward. 
60 minute Natal Chart Astrology Reading - A deep look into your birth chart with current transits. This reading is excellent for understanding the  fundamental energies that comprise your personality, as well strengths and challenges. The addition of transits looks at the current astrology and how it affects your chart, what to look out for and how to make the best use of what is being presented.
60 minute combination Tarot & Astrology Reading - Using your birth chart, current astrological transits, and the added guidance of tarot to help you maximize the available energy, make big strides toward your goals, as well as make peace with the past and move on or through any difficult times. 
90 minute Composite Chary Reading for Couples + Tarot - A composite chart uses the midpoints of both of the charts of a couple to form a new chart that offers information about the "purpose" of the relationship. During this reading, we will take a deep look into the specific energy between the two of you, how to work with areas of tension, and celebrate the special areas of connection. To process the information that comes up during the reading, we will also use tarot for additional messages from your guides for additional clarity. Exact birth times are needed for both parties for this reading.
Please note, a composite chart can be cast for any relationship, romantic or otherwise. 
Year Ahead Reading for 2023 - This 60 minute, 13 card reading takes a deep look at the main theme of the year 2021 in your life, and the themes and energies of each month and how they tie in to your card of the year. This reading will focus on moving through the events of 2020 in order to clear space and make room for the changes coming in 2021. 
This offering is available by phone, or via Zoom video conference anywhere in the world. 
All readings must be scheduled via email, stefanie@moonvoidtarot.com after purchasing.

MVT began as sketches for the interior illustrations of a memoir Stefanie had written about having a spiritual awakening that caused her to suddenly leave her marriage, job, house, and give away everything she owned and move alone across the country. She quickly realized the book was a catharsis, not to be published, and the deck was begging her to create it. She thought, who would want to buy a deck that has one character that looks just like me, basically spelling out my life story? So many synchronistic connections appeared in her life encouraging her and helping her produce it, create a website, guiding her to the next steps, and it went from a secret healing project just for herself to her entire business.
The 1st edition (2018) was 95% black and white with tiny pops of red, the 2nd edition (2020) featured an updated card font and increased moments of red spreading onto the cards, alluding to the Fool making her way out of the void and back into her life. 
The 3rd edition (2021) we see the red melt into pink, the deck features blooming roses and follows the Fool's integration of shadow and return to joy. This deck was funded through Kickstarter and is a limited run of 1200 copies. It will not be reprinted.
Tarot is the journey of the self, and the vessel of communication between our physical bodies and the Universe. While deeply personal, there is a wonderfully supportive community at all levels that support Tarot.